When I was planning this trip, I found out about a two day slow boat cruise between Thailand and Laos that is pretty popular (it's on the famous Mekong River). It's something we've never experienced before so we decided to go on this cruise instead of flying 😀
So we took this really peaceful and relaxing 2-day slow boat cruise (in a traditional long wooden boat) from Luang Prabang to Huay Xai, Laos (a border town to go into Chiang Khong, Thailand). We visited Pak Ou cave on the way, and staying a night at Pak Beng. The cruise we went on included lunches and accommodation at Pak Beng. We booked the cruise from this company Nagi of Mekong.
DAY 01
At 6:30am in the morning, our tour guide for the cruise picked us up and took us to the boat dock. It happens that we were the only tourists on this ride, which is super awesome actually. We had the whole boat to ourselves lol. I believe the route from Huay Xai to Luang Prabang is more popular, for us it was going the opposite direction, from Luang Prabang to Huay Xai.
On the ride, we saw buffalos, elephants, people fishing, people picking fruits, people looking for gold, and small villages along the river.
We also visited the Pak Au cave, which contained a ton of tiny statues that people brought in to put it there. There's also bats in the cave, which I heard some people will catch them with nets and eat them!
When we arrived at at Pak Beng, our tour guide checked us in to our hotel and then took us on a tour around the neighborhood. We went to a local market and he told us about some of the things they were selling.
Then we were free to spend the evening wherever. We ate dinner in a restaurant close by our hotel and went back to the hotel to rest for the night. That night there seemed to be a big storm, which had both me and my friend worried about the boat that's docked by the river (the boat operator family I think lives on the boat). But our guide slept through it very peacefully and said the rain wasn't bad lol.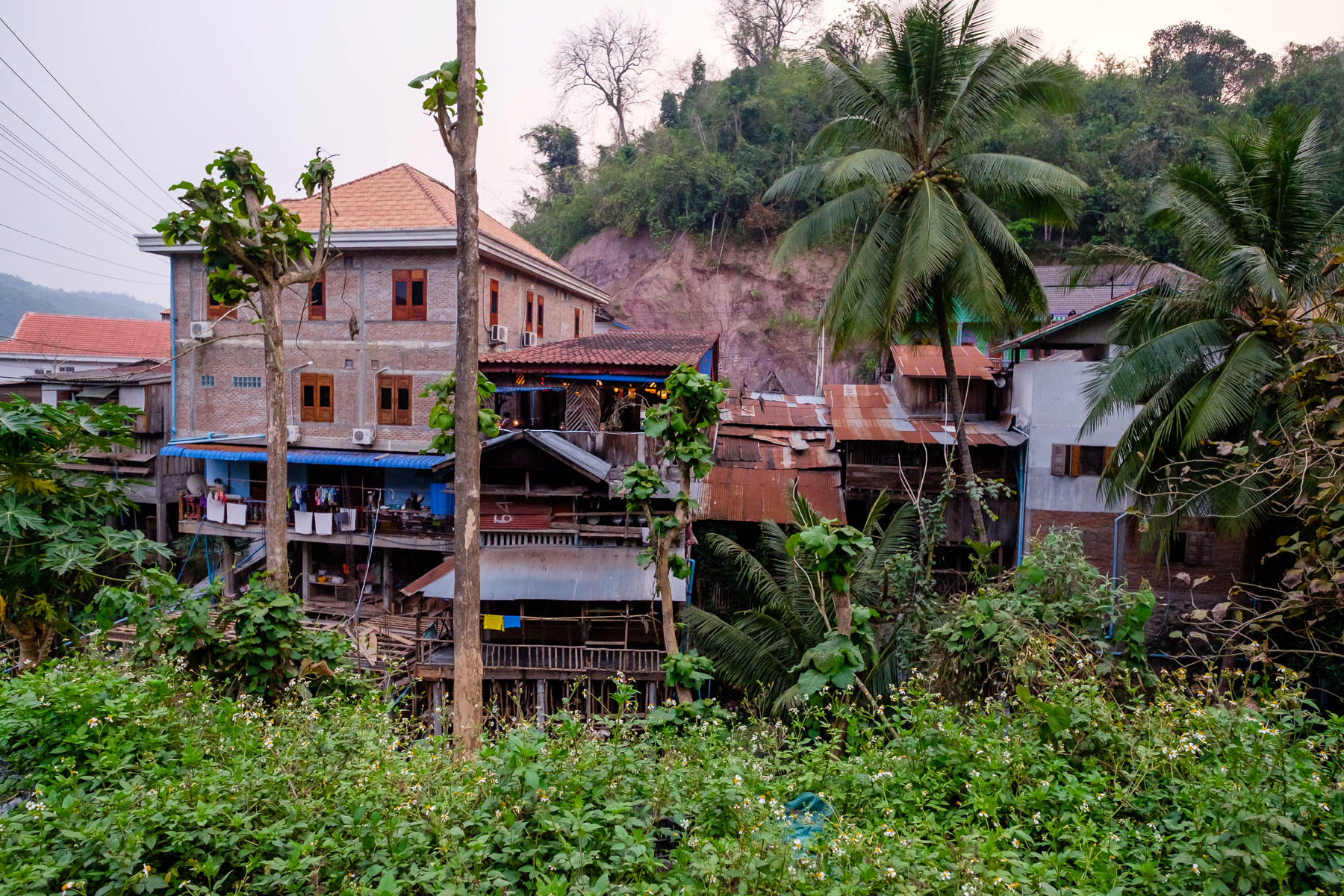 DAY 02
Today in the morning at 6:40am we headed out again in the boat to Huay Xai. On the way we stopped by a small Khmu village. Their houses are built of wood and they gather rice into one hut that should last them the whole year.
They have pigs, chickens, ducks, hen, cats, dogs, and roosters all living in this village. They grow vegetables and fruits, and they also have a little school here. When a house needs to be built, the community build it all together. They believe in animal spirits so when they get sick, they will call for a shaman. If the shaman can't fix it then they go to the hospital lol.
Once we arrived in the port at Huay Xai (Laos side), we were taken in a minivan to the immigration border office where we got stamped out of Laos (exiting). Then we took another bus to cross the bridge that goes to the Thailand side (Chiang Khong). Once there, we got our arrival form and stamped through into Thailand. We didn't need to get a Visa for this, not sure why, but just to be safe if you're also doing this bring around $35 dollars cash and a passport photo.
---
CHIANG KHONG
At Chiang Khong, we took a tuk-tuk to our accommodation Day Waterfront hotel. Some people will go directly to Chiang Rai or Chiang Mai from this town, but we decided to stay the night here since we won't be able to catch the bus at this time of the day and calling for a taxi or private driver is going to be expensive. The manager at this hotel is sooo nice, she's like a caring aunt. Definitely recommend this hotel, and it's right next to the river.
---
CONCLUSION
I loved this cruise, it was a very peaceful boat ride and very relaxing, I liked it a lot. I wonder, if there were a lot more people on the boat then would it have been different. Since there was only the two of us, we were able to lay down on the coach seats near the front lol, instead of maybe having to have to be in a sitting position the whole time if the boat was filled up. The seats with the tables are very comfortable though so I think it'll still be a very good ride. So I definitely recommend this cruise for people thinking about going between northern Thailand and Laos!
---
COST OF TRIP
Here's a breakdown of the cost for our 2 day slow boat cruise and a night stay in Chiang Khong, from Luang Prabang to the border town Huay Xai, per person in USD (excluding flights). It is based on a 2-person share.
Cruise: $180
Accommodation at Chiang Khong: $11
Food:$8
Total Cost: $199 USD
Accommodation: Day Waterfront Hotel
Resources: Nagiofmekong.com
See the photos I took for the 2 Day Slow Boat Cruise along the Mekong River, Laos