Since we were going to Bali, I also researched what other places in Indonesia we could also visit. I found out there's a UNESCO listed temple that is the world's biggest Buddhist temple – Borobudur temple, as well as another famous temple there – Prambanan Temple. So we decided to spend 3 days in Yogyakarta.
I found this website Yogya Backpacker that has very good and useful information on places to visit in Yogyakarta. I ended up booking a driver for 2 days with them and it was great! So I would recommend them if you need a driver and guide for transportation in Yogyakarta. So here's the places and activities we did while in Yogyakarta.
---
JOMBLANG CAVE
This is pretty cool. You are rappelled down about 30 meter to the bottom of the cave. Then walk through the cave to a opening spot where you can see light streaks from the sun through the top. After that you are provided food for lunch which is actually pretty good. We really enjoyed this activity 🙂
---
JALAN MALIOBORO
In the evening we walked along the Malioboro road, a lively long street with lots of tourists and entertainment. They have benches along the road so you could just sit there and people watch, which is what we did for a bit. So we didn't realize, most the people you see there are tourists. We thought they were all locals at first! Our hotel Hotel 1001 Malam was close very close to this street which was a good choice.
---
SETUMBU HILL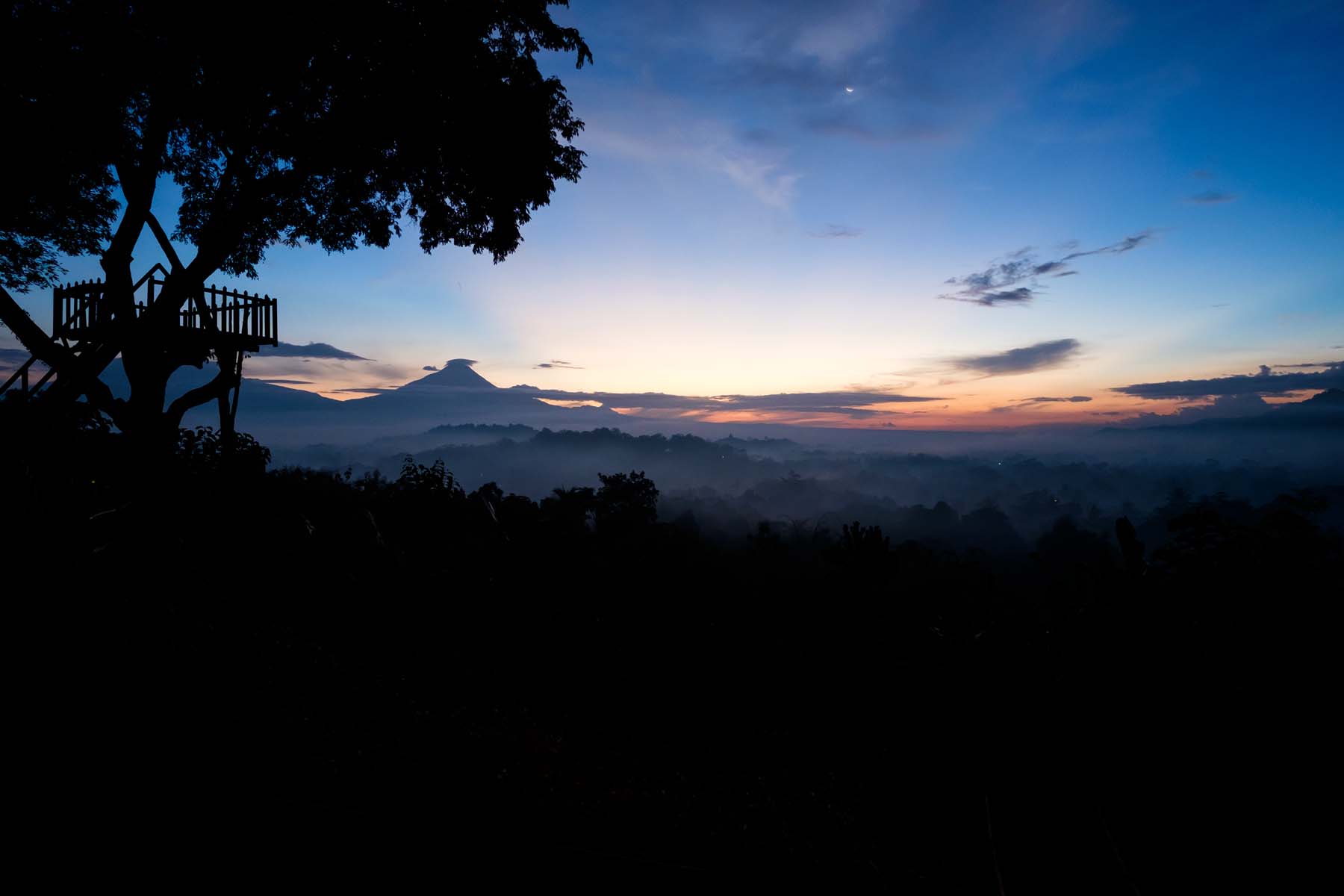 We went to Setumbu Hill to watch the sunrise, it's one of the location they suggested we can go instead of the one at Borobudur since this one is so much cheaper. I'm so glad we went here, because the sunrise is beautiful! You can see Mt. Merapi and the Borobudur temple from here. The garden itself is very well maintained and the bamboo pathway to this spot is very nice. There's also a treehouse here, though you'll need to pay a little fee to go on it during the sunrise.
---
BOROBUDUR TEMPLE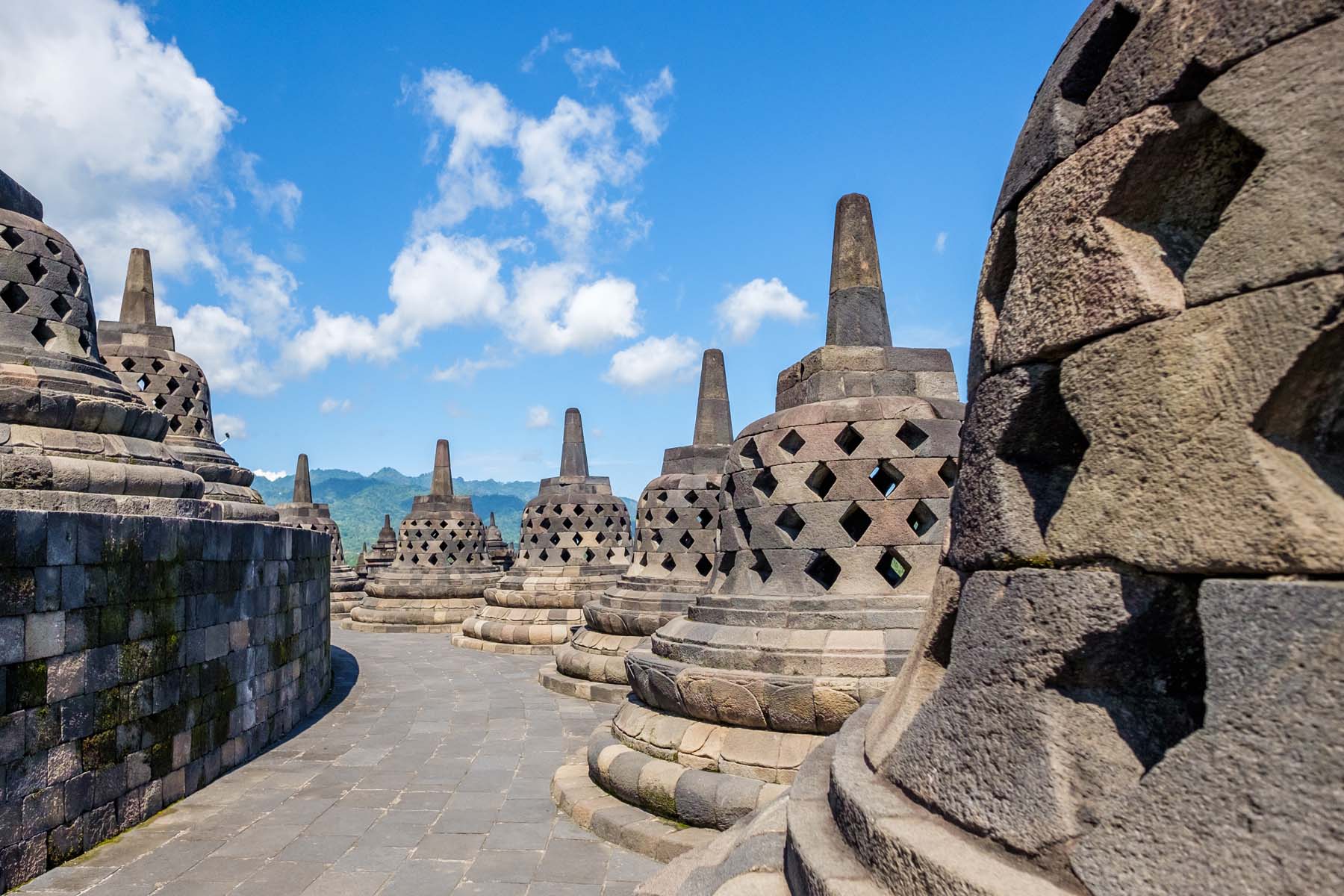 Yes it's a BIG temple. I think it would've been better if we had hired a guide that can talk us through the inscriptions on the walls. But yeah it was good to see. Half the time while we were there though, it was spent trying to hide from the school kids who kept asking us to take pictures. At first we agreed, but after like 5 times we didn't want to anymore lol. There were so so many school children here.
See my photos at Borobudur Temple.
---
KALIBIRU NATIONAL PARK
This place wasn't as big as we imagined, it's a place where there's different stations set up with different activities you can do, such as a platform that appears to be in the air where you can sit and take a photograph. So if you're interested in this stuff then it could be a place to go. I personally wasn't really impressed by it, though it was quiet and had a nice breeze when we were there.
On our last day, we met up with someone through the Couchsurfing community, which I definitely recommend as a way to get in touch with a local! Our Couchsurfing friend was super nice and took us around Yogyakarta, walking through the neighorboods and showing us which stores are good to shop at lol. We also learned a lot about the locals who live in Indonesia, it was very interesting.
---
COST OF TRIP
Here's a breakdown of the cost of our 3 days in Yogyakarta trip per person in USD (excluding flights). It is based on a 2-person share.
Accommodation: $74
Transportation (driver): $25
Activities & Entrance Fees: $54
Food: $20
Total Cost: $173 USD
Accommodation: Hotel 1001 Malam
Resources: Yogya-backpacker.com
See the photos I took at Yogyakarta | Borobudur Temple.