We spent 8 days in Japan. I had always wanted to visit Japan before, since I was really into anime as a kid, so I was super excited for this 😀 For our trip, we decided on 4 locations: Tokyo, Hakone, Kyoto and Osaka.
Our 8 days Japan itinerary:
Day 1-3: Tokyo
Day 4: Hakone
Day 5: Hakone/Kyoto
Day 6: Kyoto
Day 7: Kyoto/Osaka
Day 8: Osaka
TOKYO
Senso-Ji, Ameyoko Market and Tokyo Skytree
We arrived in Tokyo, Japan at around noon time, headed to our hostel (Centurion Ladies Hostel Ueno Park) at Ueno, then walked to Ameya-Yokochō market and got some delicious takoyaki here. After that we took the train to Senso-ji, the oldest temple in Japan. I got a fortune slip here and I believe I also bought a charm here, I bought charms from like each temple I visited in Japan lol.
We had a nice dinner around the area, then headed to Tokyo skytree, the tallest structure in Japan. We hung around the area a bit and took a bunch of selfies. A random nice old man showed us several ways to take pictures with the Tokyo Skytree from a unique perspective lol.
Meiji Shrine, Shinjuku Gyo-en, Takeshita Street, Shibuya Crossing
The next morning we went to the Shinjuku Gyoen National Garden. It was a nice big park. We saw people doing yogas and some creating art. I discovered a very beautiful tree, the momiji tree! A nice stranger told me the name of the tree 🙂
We also saw a bunch of people taking pictures of a tall building from the park, which I later discovered the building is the NTT Domoco Yoyogi building. It was in an anime movie called Kimi No Na Wa (Your Name), which I watched before!
Next we went to the Meiji Jingu shrine. The row of sake barrels along the wall was really cool. We also saw what appears to be a wedding ceremony, there was a row of people walking in traditional clothing and someone holding a red umbrella.
After that we headed to Takeshita street, a very crowded street selling lots of cute and trendy things, along with cafes and restaurants. We got soft ice cream from ZAKUZAKU, since it had a long line of people waiting to get it. The ice cream is very creamy!
Then we headed to the busiest intersection in the world, the Shibuya Crossing. We walked across the street like two times lol. Also went into a mall building where we could see the intersection from above.
Design Festa
There happen to be an art convention going on on one of the days we were staying, the Design Festa, so we went! There were artists doing live paintings, singing and dance performances, and booths of artists selling their crafts, also some people cosplaying.
For dinner we ate at Shabu Shabu Onyasai, which was good. It started raining hard in the evening, so we just headed back to our hotel for the rest of the day.
Accommodation: Centurion Ladies Hostel Ueno Park
Places visited: Senso-Ji, Meiji Shrine, Tokyo Skytree, Ameyoko, Shinjuku Gyo-en, Takeshita street, Shibuya Crossing, Design Festa 
---
HAKONE
Lake Ashi, Owakudani Crater, Onsen at Ryokan
We arrived to Hakone around 4pm from Kyoto, took a taxi and checked in to our accommodation Ashinoko Ichinoyu, it's a Ryokan (traditional japanese Inn), which is awesome. After getting settled, we took a short walk to Lake Ashi. One thing in hindsight we missed was getting onto the boat to cruise around the lake and see the floating Torii! Totally forgot about that lol. We just walked along the lake and enjoyed the sight. Then we went to search for a place to eat. Many places were actually closed. Of the one restaurant that was open, the menu didn't have many choices, but the food turned out to be really good!
We booked a spot for the onsen that evening at our accommodation, the water was super hot! I could only stay for like 6 minutes lol. They also provided Yukata for us, so we wore that and enjoyed tea in our traditional style room. We slept on futons that night 🙂
The next morning we had breakfast at our accommodation which was also very good! After breakfast we rode on the Gondola ropeway to get to the Owakudani Crater. We could smell the sulfur and also see Mt. Fuji at a distance. We also had the black egg. I really enjoyed the trip to Hakone!
Accommodation: Ashinoko Ichinoyu
Places visited: Lake Ashi, Owakudani Crater  
---
KYOTO
We arrived at Kyoto late in the day. After checking into our hotel, we went out and got dinner at a noodle restaurant which was pretty good. Then we went to the Kyoto tower and looked around the shops inside.
Arashiyama Bamboo Grove, Tenryuji Temple, Kinkaju temple, Gion street
The next day we went and visited Arashiyama Bamboo Grove. Then to the Tenryuji Temple, which is cool because you can go inside the traditional house and just sit on the wooden floor and enjoy the garden view from the patio. It was a bit hot that day though lol. I always wanted to sit on those wooden patio open doorway traditional Japanese houses that you see in anime lol, so you can experience it at this place.
After that we headed to see the Kinkaju temple (Golden Pavilion). The temple by the pond is very golden lol. You can't go inside, so it's just seeing it from afar.
After that we headed to Gion street. It was really cool, the old style street and restaurants. We went to a place to see a series of traditional Japanese cultural performances. featuring a tea ceremony, classical music instrument, a Geisha dance, a comical performance, and finally a puppet show. Later we saw the geisha on the street.
Fushimi Inari
The next morning we went to see the Fushimi Inari shrine. We went through a side path by accident and walked all the way up through small shrines and bamboo forest to Mount Inari.
It was a very quiet route so that was nice. So I think if you can only see either Fushimi Inari or Ashiyama, going to Fushimi Inari allows you to see the torii gates as well as the bamboo forest lol.
On the way back down we went through the Torii gates, it was really cool to walk through it.
Accommodation: K's House Kyoto
Places visited: Fushimi Inari shrine, Ashiyama bamboo grove, Tenryuji Temple, Kinkaju temple (gold temple), Kyoto tower, Gion street
---
OSAKA
We arrived at Osaka late in the day. After checking into our hotel, we went to Dotonbori street and shopped around.
The next day we visited the Osaka castle. We went inside and saw the museum displays, then ate ramen at the shops nearby and bought souvenirs. I bought a bunch of handkerchiefs there lol.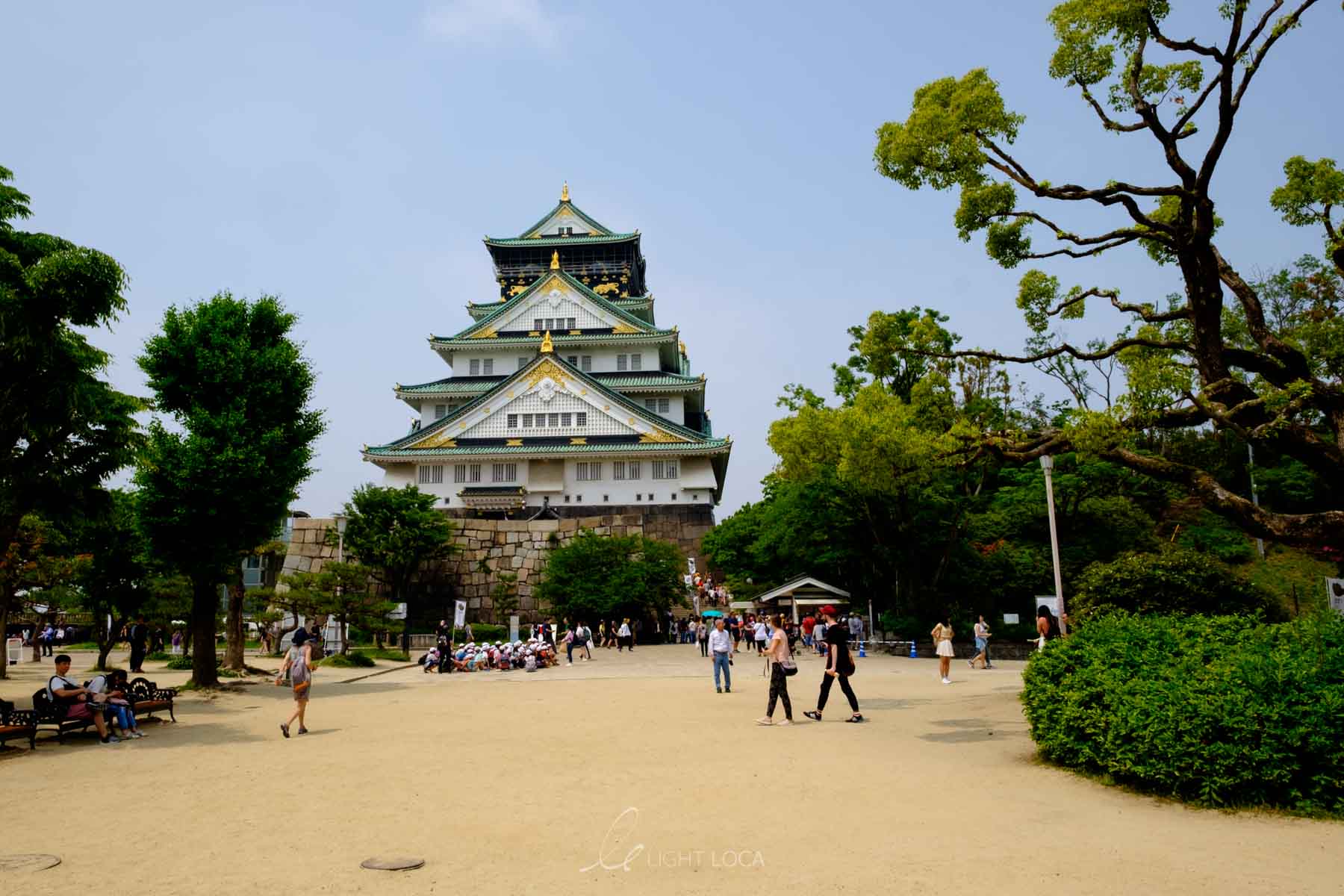 In the evening we went to the Dotonbori street again and had the charcoal crab legs, and had Gyukakku for dinner. We ate so much since it was a buffet. Then we spent the rest of the night shopping around the area.
Acommodation: Drop Inn Osaka
Places visited: Osaka castle, Dotonbori street
---
Getting around Japan
We used the trains to get around Japan, with only one time using taxi to get from the train in Hakone to our accommodation. We got the Suica card or the Pasmo card, don't remember which one, and just put money into it as we went along. For between cities, we rode on the high speed rail.
---
COST OF TRIP
Here's a breakdown of the cost of our 8 day Japan trip per person in USD (excluding flight). It is based on a 4-person share.
Accommodation: $285
Transportation: $180
Activities & Food: $215
Gifts/Shopping: $150
Total Cost: $830 USD
See more of my photos to Tokyo, Kyoto, Hakone & Osaka