We went to New Zealand for 15 Days, with a few days in the city of Auckland and the rest doing a road trip from the north of South Island, from Christchurch all the way to the south, ending at Queenstown.
With our time limit of 15 days, I researched the top locations to visit in New Zealand, and the result was leaning more towards the South Island. We wish we could also go to the popular glow worm cave and see the geothermal areas on the North Island, but with the time constraint we decided to do mostly south island. We thought about just flying somewhere into south island directly, but the flight prices was the cheapest getting into Auckland (flying from USA). So that is why we started in the north island and then went towards south island.
New Zealand was our first out of the country spot, and of course we were already met with a crisis to our plan. A cyclone was going to hit the day before we arrive in New Zealand, so we had to change our itinerary. That consisted of cancelling a flight, accommodations, and ferry booking, but overall we didn't lose much money, so it was ok. In hindsight I think we liked the new plan because that was really the few times in the trip were we weren't rushing through each location like a madman lol.
Our original itinerary:
Day 1 – Fly in to Auckland (stay the night).
Day 2 – Fly to Wellington (1hr drive)
Day 3 – Ferry to Picton (3.5hr drive) (pickup rental car). – Dolphins
Day 4 – Picton > Kaikoura (2.5hr drive) – Sperm whales
Day 5 – Kaikoura > Christchurch (2.8hr drive)
Day 6 – Christchurch > Tekapo (3hr drive)
Day 7 – Tekapo > Mount Cook Village (1.2hr drive) – Tasman Lake and glaciers
Day 8 – Mount Cook Village > Wanaka (2.5hr drive)
Day 9 – Wanaka > Te Anau (3hr) – Glow worm cave
Day 10 – Te Anau > Milford Sound (2-3hr drive)
Day 11 – Milford Sound > Te Anau (2.5hr drive)
Day 12 – Te Anau > Queenstown (2.5hr drive)
Day 13 – Day trip to Glenorchy
Day 14 – Queenstown
Day 15 – Queenstown Fly out
But due to the cyclone that hit around the area between north and South Island, we decided to stay additional days in Auckland and then fly directly to Christchurch (thus skipping Wellington/Picton/Kaikoura).
Day 1-4 – Auckland
Day 5 – Auckland > Christchurch
Day 6 – Christchurch > Tekapo (3hr)
Day 7 – Tekapo > Mount Cook Village (1.2hr drive) – Tasman Lake and glaciers
Day 8 – Mount Cook Village > Wanaka (2.5hr drive)
Day 9 – Wanaka > Te Anau (3hr) – Glow worm cave
Day 10 – Te Anau > Milford Sound (2-3hr drive)
Day 11 – Milford Sound > Te Anau (2.5hr drive)
Day 12 – Te Anau > Queenstown (2.5hr drive)
Day 13 – Day trip to Glenorchy
Day 14 – Queenstown
Day 15 – Queenstown Fly out
---
AUCKLAND
Our first day at Auckland consisted of just discovering the city. We walked to the Queens wharf and Princes wharf and was able to see a cruise ship along with lots of small ferries and boats. Then in the evening we hiked to the Eden summit and watched the sunset.
On our second day we went to Piha, a seaside village on the west coast. It has a very nice beach and forest hiking area. It is also a surfing location, though our guide said it has one of the roughest waters.
We booked through Trippy for the transportation to Piha. There wasn't many simple options out there to get to Piha for a cheap price (unless you have a car). I found Trippy through researching online and it was great! Our bus driver/guide told us several general things about the area and we were completely free to explore until around 4pm, which he then drove us back to Auckland.
The next day we took a ferry to Waikeke island. We didn't really have a specific place that we were looking for so we just walked around. We came upon a beach, vineyards, a deprecated wooden boat, and horses. We walked a lot today lol.
Accommodation: YHA Auckland City Hostel
Places visited: Queens wharf, Princes wharf, Eden summit, Piha, Waikeke Island.
Resources: Trippy (Transportation to Piha)
See the photos I took while in Auckland | Piha | Waikeke island

---
CHRISTCHURCH
We didn't get to see much of Christchurch at all, since when we arrived from the airport it was already 5pm. We picked up our car rental from Apex Car Rentals. I researched several rental companies and decided on Apex. They have one of the lower rates for one-way rentals (the pick up and drop off locations are different. We're picking it up from Christchurch and dropping the car off at Queenstown). We found dinner at Hachi Hachi and went back to our hostel for the night.
Accommodation: YHA Christchurch Rolleston House
Resources: Apex Car Rentals

---
LAKE TEKAPO
The next day we drove 3 hours to Lake Tekapo, seeing some nice scenery and sheeps along the way. After checking into our little cabin, we hiked to the top of Mt. John Observatory. It was a good uphill hike around 1hr through a forested pathway, with very nice views at the top. We had our dinner at Kohan, a nice Japanese restaurant in the area.
Accommodation: Lake Tekapo Motels & Holiday Park
See my photos of Lake Tekapo & Pukaki
---
LAKE PUKAKI and AORAKI / MT. COOK
The drive to Mt. Cook (Aoraki) was very nice. We stopped for a bit at Lake Pukaki, which is a  turquoise colored lake. At Mt. Cook, we hiked the Hooker Valley Track, which is one of my favorite hikes on this trip! It is so amazing, the mountain glacier views, the valley opening with the mountain backdrop, the 3 suspension bridges across the lakes, it was beautiful. The hike is about 3-4hr round trip, and it's a very easy hike, no steep paths or anything. So I highly recommend visiting Mt. Cook when visiting New Zealand.
Another awesome hike in this location is the Tasman Glacier View walk, it's a very short trail, only take 30 minutes. There is one spot on the hike that may make a person scared of heights queasy, but it's only one little area. For me I felt it going down, but really it's not that bad.
Accommodation: YHA Aoraki Mt Cook
Activities: Hiking Hooker Valley Track and Tasman Glacier View
See my photos of Lake Tekapo & Pukaki | Aoraki Mt. Cook & Tasman Glacier
---
WANAKA
At Wanaka, we hiked the Roys Peak track. It's a 6-hour long hike, which when we started we didn't think we would make it to the top, but we somehow ended up doing pretty much the whole thing. It's a steep trail, but not cliffy at all. I'm scared of heights and it was not scary for me, because the path is very wide and the incline down the side is low. We saw lots of sheeps on the way. The view at the top is amazing, so it was worth it I would say. Going down the trail is actually worse than going up, because your knees starts to hurt because of the steep incline down. I would recommend using a whole day of time for this hike. We had to drive to our next location at Te Anau after the hike and we didn't get there until pretty late, so we were really tired that night lol.
Another pretty famous spot in Wanaka is the lone tree in the lake. It's a cool looking tree by itself sitting on the water.
Accommodation: YHA Wanaka
Activities: Hiking Roys Peak track and chilling at the Wanaka lake.
See my photos of Wanaka
---
TE ANAU / DOUBTFUL SOUND
Te Anau is the nearest town to Milford Sound, about 2hrs away. We choose to stay a night here since it cuts our drive down between Wanaka and Milford Sound. This is also a good location to be at if you want to visit Doubtful Sound, so we decided to do a kayaking trip at Doubtful Sound. We went with Go Orange company for the kayaking. It was expensive, around $180/per person USD. We were happy with the trip though. The trip consisted of a bus tour down to Deep Cove where the tour guide explained some history and general information about Doubtful Sound. Then we got into the kayak and kayaked around. One thing to seriously bring for this is insect repellent, if you get bitten by the flies there, the mark will last like weeks and it itches like crazy. So be warned.
Accommodation: Te Anau Lakeview Kiwi Holiday Park & Motels
Activities: Kayak Doubtful Sound
---
MILFORD SOUND
Milford Sound is amazing, it's a fiord and rainforest with waterfalls. Being there feels like you're in the Jurassic Park movie. One of the main things to do there is cruise the fiord, so we went with JUCY Cruise for the cruise ride through Milford Sound and we were super happy with the choice. We saw some bigger company name cruises that had a ton of people crowded on board, whereas for ours, it was not crowded at all. The captain of our cruise boat also led us very close into the waterfall, so anyone who wants to get fully drenched can go to the deck and experience it lol.
After the cruise we hiked some nice wet trails around the area, The Chasm Walk and Lake Marian Track. For Lake Marian we didn't get to do the whole track as we were short on time.
Accommodation: Milford Sound Lodge
Activities: JUCY Cruise, The Chasm walk, Lake Marian track.
See my photos of Milford Sound
---
TE ANAU
We came back to stay a night in Te Anau before we start heading to Queenstown to break up the driving time. So this time we went to the glow worm cave. It's pretty neat, going into a completely dark cave on a small boat and seeing the glow worms. We went with Real Journeys company for this cave tour.
Accommodation: Lake Tekapo Motels & Holiday Park
Activity: Glow worm cave tour
---
QUEENSTOWN
Queenstown is a neat little town, you'll hear live music and individual performances in the downtown area. The hostel we stayed at is right by the lake where you can see an amazing sunset, so do watch the sunset there. The first day here we hiked Queenstown Hill. We started pretty late and had trouble finding the entrance to the trail so we ended up not really sure if the trail we went on was actually the Queenstown Hill trail lol. The next day we visited Glenorchy. The drive to Glenorchy is really nice, we stopped at the Bennett's Buff view on the way. We stopped at the Wharf in Glenorchy and did the easy hike called Glenorchy Walkway. I believe this location is where one of the Lord of the Rings was shot at.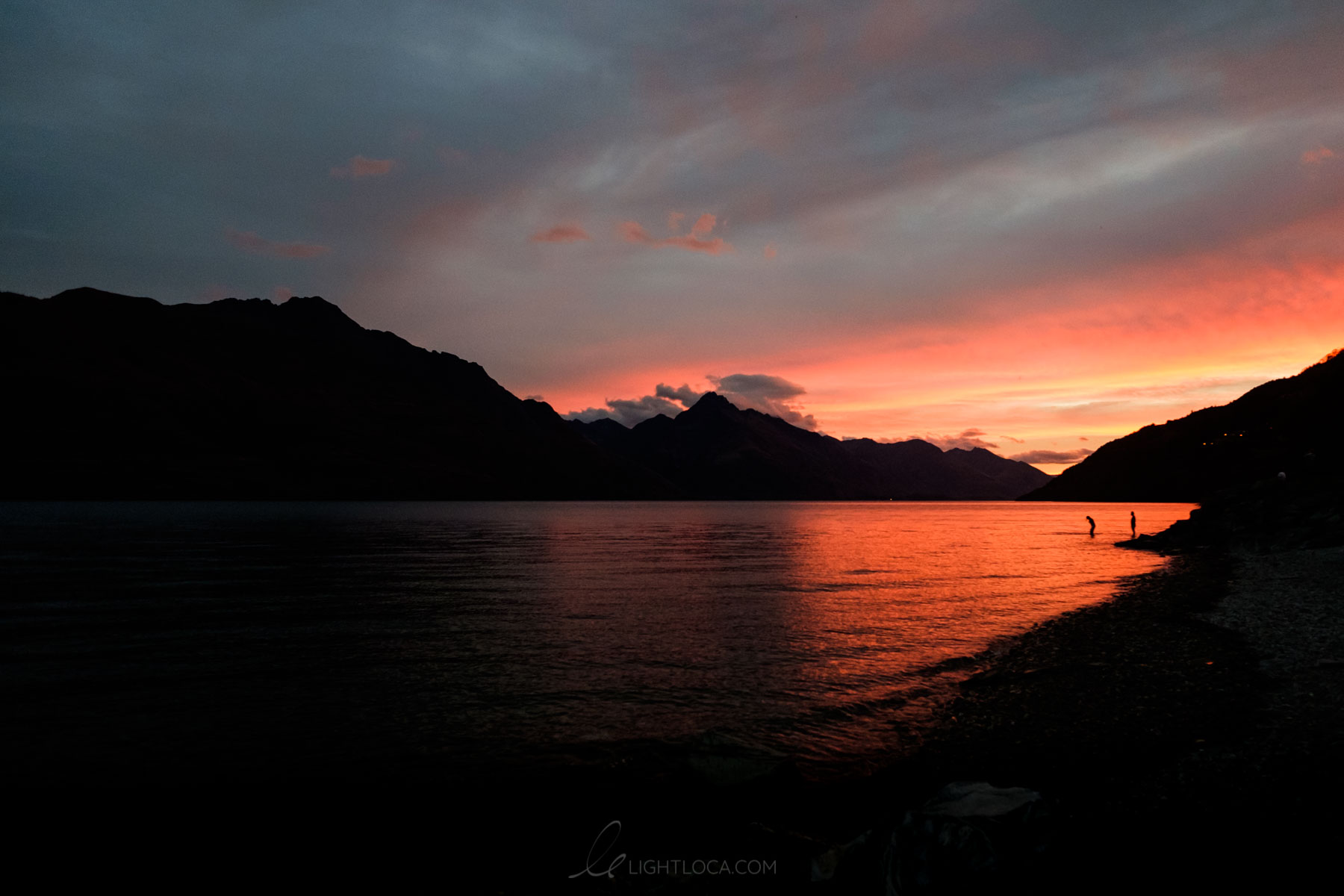 Accommodation: YHA Queenstown Lakefront
Activities: Hiking Queenstown Hill, visiting nearby town Glenorchy.
See my photos of Queenstown | Glenorchy
---
COST OF TRIP
Here's a breakdown of the cost of our 15 day New Zealand trip per person in USD (excluding the international flight). It is based on a 2-person share.
Accommodation: $385
Transportation (Local flight, car rental and buses): $365
Activities: $311
Food: $210
Total Cost: $1,271.00 USD
---
Conclusion
New Zealand is one of my favorite location on my 3 month travel. It is clean and the scenery is amazing. Having a car gave us a lot of freedom which I really recommend if you're doing a road trip in New Zealand. I would definitely want to come back and do some of the other famous tracks in New Zealand!
Check out what I packed with me for traveling around the world.