For our 1-week stay in Siem Reap, Cambodia, we spent two full days visiting Angkor Wat, and the rest of the time hanging around Siem Reap and doing different activities around the area. We had a very good time here, it felt safe and the people we've encountered were friendly! Here's what we did for our one week trip in Siem Reap, Cambodia.
ANGKOR WAT TOUR
We did a 2-day tour visiting Angkor Wat & the surrounding temple complexes. Our tour included visiting so many location spots that I honestly don't remember the names of each of them that I visited! I had to go through my photos and search online to find the names of the places I took pictures of lol. Here's a map of the main Angkor Wat complexes.
Day 1 Angkor Tour
The first day we visited the main attraction Angkor Wat. To me it actually looked smaller than I imagined, maybe because I see ongoing construction parts so it seemed incomplete to me, or it could be because I just saw the largest Buddhist temple in the world (Borobudur) a few weeks ago. Our guide was very informative and told us the story of the Khmer Empire. I had no idea about the history of Angkor Wat so it was amazing to learn how big of an empire it was before! To think how the country went from such a rich state to now one of the poorer country in the world.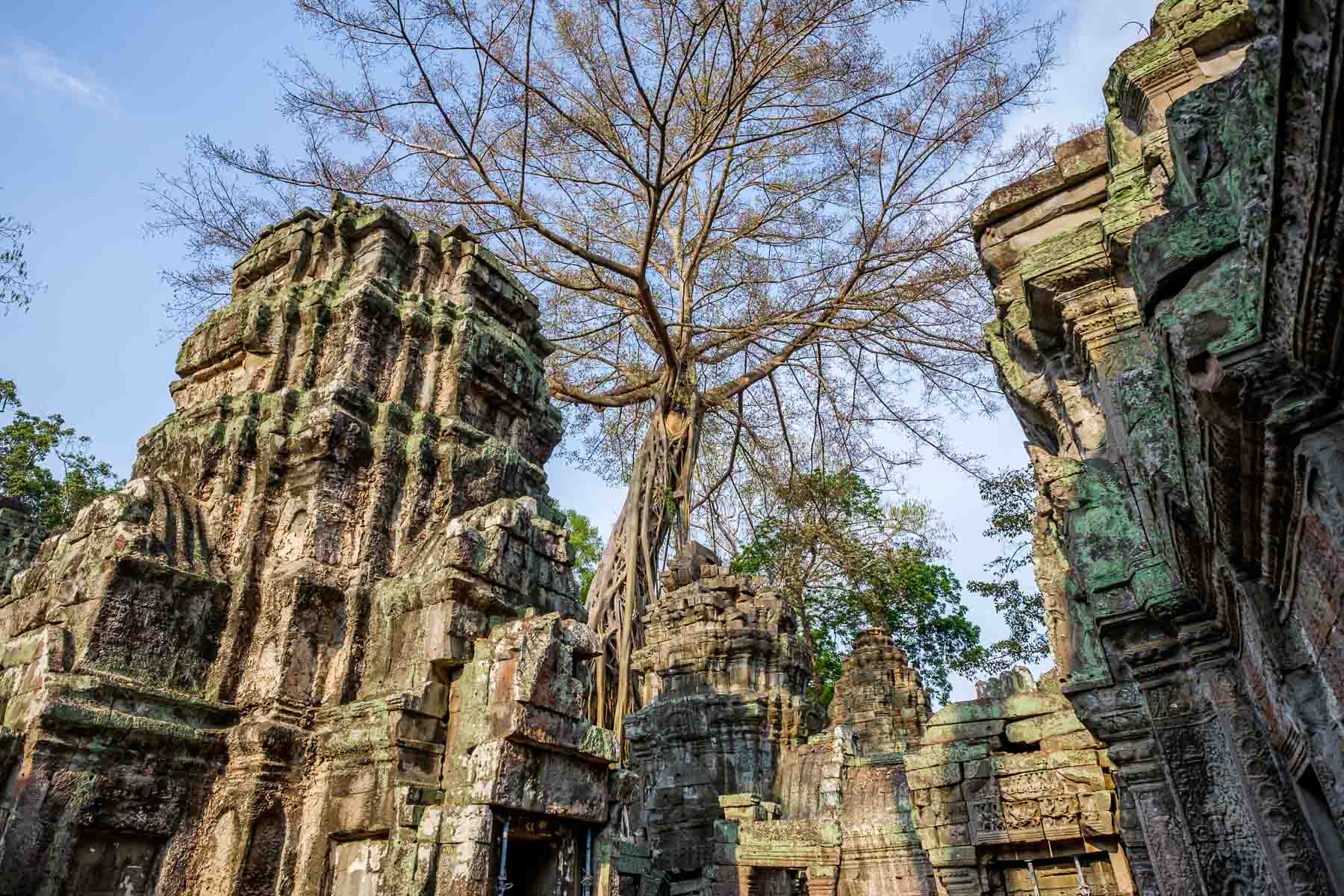 We then visited Angkor Thom and Bayon. Angkor Thom is where you can see humongous tree roots intertwined with the structures. Bayon is where you'll see the multiple big carved faces. We also visited Ta Prohm which is known for where Tomb Raider was shot at. Then for sunset we went to the south gate of Angkor Thom which has the faces lined up along the sides of the bridge. It was nice seeing the orange sun set into the water.
See my photos of Angkor Wat | Angkor Thom & Bayon
Day 2 Angkor Tour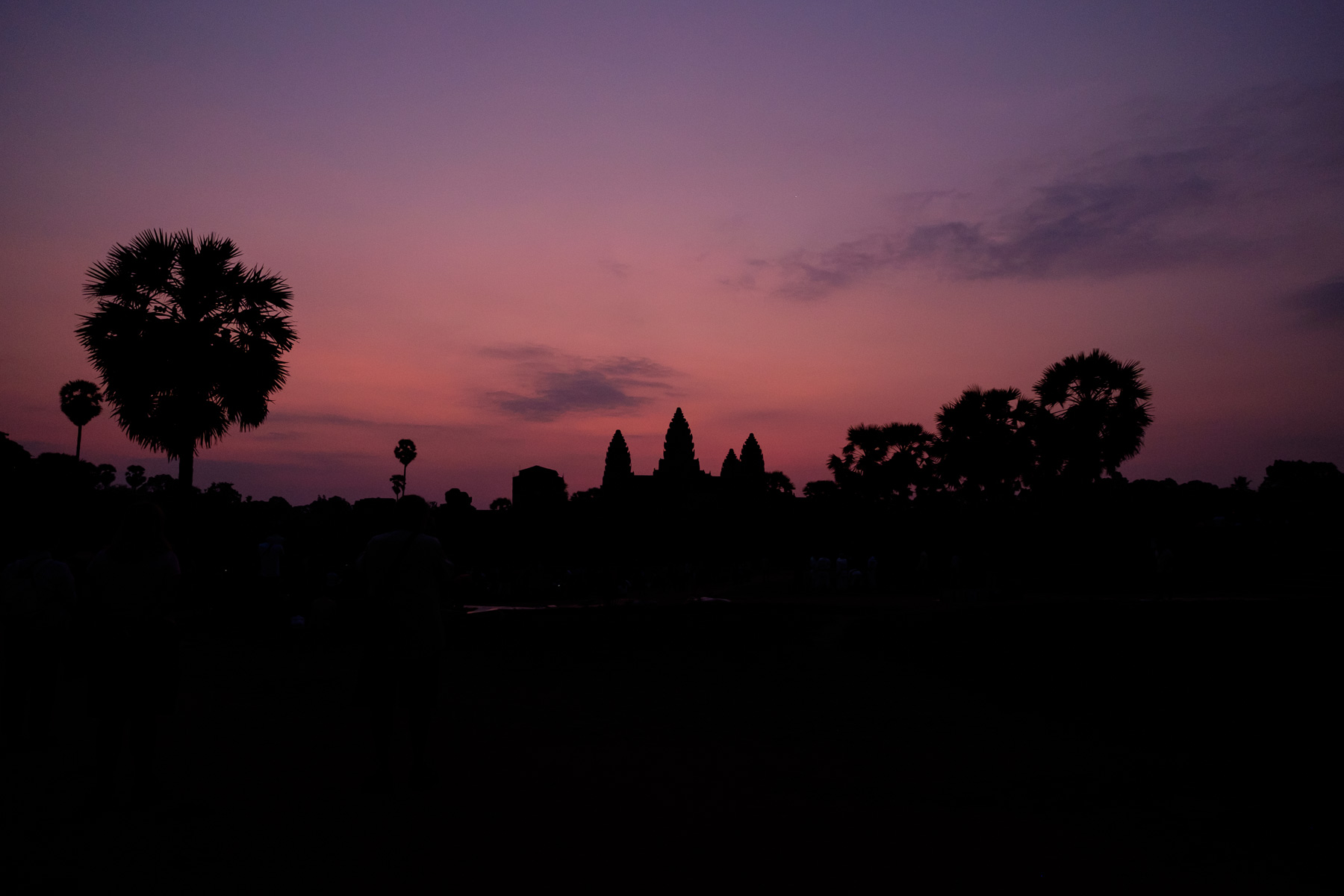 The second day we headed out at 5am to see the sunrise at Angkor Wat. There was so many tourists here watching the sunrise. We also saw some monkeys here, probably hoping to find food.
We then went to see several more temples including Preah Khan, Neak Pean, Ta Som, East Mebon, and Banteay Srei, which is one I really liked. It's made out of red sandstone and the carvings on the walls are very decorative and intricate. Another one that I liked had open doorways that seemed to never end. I don't remember which temple that was. We went to so many temples in these 2 days but because not all of them are the same we didn't really get templed out.
See my photos of Preah Khan, Neak Pean, & Ta Som | Banteay Srei, East Mebon & Ta Prohm
Our Tour Guide
Our 2-day tour was with a driver that was recommended by the Extra Pack of Peanuts website, Bunthy (Call or WhatsApp (855)-12-972-469). We contacted him through WhatsApp a week before the tour date, and he was not available, so he referred us to his friend Sothil (Call or WhatsApp (855)-12-758-210). So we hired him as our driver and also hired through him a guide. We were very satisfied with them! So do recommend them if you're looking for tour guides in Siem Reap, Cambodia.
---
PHSAR LEU THOM THMEY LOCAL MARKET
This is a very big local market located at Nation road 6, Siem Reap. We rented bicycles from our hotel and biked to this local market. There was a lot of people selling and buying fruits, vegetables, meat, clothing, etc. It's a really big market and you won't see many tourists here. So if you want a local market experience, go here 🙂 You'll see fresh cut up animals too so beware. We also saw at one section there was a bunch of beautiful formal dresses. It looks like you can get your clothing tailored here too.
---
APSARA DANCE CLASS
I searched online of things to do in Siem Reap and came upon Backstreetacademy.com. They have many local classes that you can sign up for. We saw this Apsara dance class that seemed interesting so we signed up for it. We biked to the location of the instructor's home which is where the class is located at. It was only the two of us that signed up for it so it was a one-on-one type of class. Oh and you will be changed into the dance clothing. It was very cool to see how the skirt is folded and fitted to your body. So Apsara dance is harder than you'd think! The small details of how you move your hands took us like half the class time lol. It was very cool though, to learn how they move their bodies to convey emotions and story in the dance.
---
ARTISANS ANGKOR
Artisans Angkor is a Cambodian social business helping to create job opportunities for youths in rural areas, while reviving traditional Khmer craftsmanship (stone and wood carving, painting on statues and on silk, lacquering, and silver plating). You can tour their workshops and see their craft in progress for free. There's also a shop to buy good quality souvenirs. What's cool is that they are helping with the restoration for the actual Angkor sites, so their skilled are actually being used!
---
PHARE, THE CAMBODIAN CIRCUS
We went to watch this acrobatic show, which is really good! The stage isn't very big so you can see very clearly. The profits from the show helps support the free education, professional arts training and social support programs of Phare Ponleu Selpak in Battambang for youths. Visit pharecircus.org to learn more. I highly recommend this if you're visiting Siem Reap, Cambodia!
---
MARUM RESTAURANT
The food at the Marum restaurant is very good! It's more expensive than the normal cambodian standard food price, but compared to US, it's actually cheaper. The restaurant also has a good purpose, for kids to learn to cook. There's also a Friends 'n' Stuff fair trade shop there where you can buy handmade products made by the Kaliyan Mith NGO program that helps support families and providing educational skills for children and youths in Siem Reap.
---
MOTORCYCLE TOUR
We went on a Motorcycle tour to the countryside of Siem Reap, Cambodia. I found Khmer Ways – Discover Cambodia by Moto. They have different types of tours you can go on. We decided to do the half-day tour to the countryside of Siem Reap. They will even teach you how to ride a motorbike for free if you don't know how, which is what we needed. It's a good way to learn how to ride a motorbike! We rode on dirt roads through villages and to a Monastery. It was pretty fun, good to see the non-touristy spots of Siem Reap and also experience riding a motorbike for the first time lol.
---
WHERE WE STAYED AT
We stayed at Blossoming Romduol Lodge which included a free tuk-tuk(rickshaw) transport from the Airport to their hotel. You can also rent out their bicycles for free which is also a plus! And it's close by the Pub street which is very lively at night. We enjoyed staying at this accommodation.
---
VISA
The Visa cost if I remember correctly was $30USD + $5USD fee (bring cash). I just did visa-on-arrival which seems to be pretty easy. Just remember to also bring a passport photograph that is required for the Visa.
---
COST OF TRIP FOR SIEM REAP, CAMBODIA

Here's a breakdown of the cost of our 1-week trip in Siem Reap, Cambodia per person in USD (excluding flights). It is based on a 2-person share.
Accommodation: $54
Activities & Entrance Fees: $222
Food: $60
Visa: $35USD
Total Cost: $371 USD
Accommodation: Blossoming Romduol Lodge
Resources: Backstreetacademy.com, Khmer Ways – Discover Cambodia by Moto
See the photos I took in Siem Reap, Cambodia