We did a 6 day trip to Yunan, China. We flew into Kunming, Yunan, and headed to the different scenic spots in Yunnan.
Yiliang Jiuxiang Scenic Area
Our first spot was to the Yiliang Jiuxiang Scenic Area. It's a pretty awesome place. We rode on a small boat through the gorge, then walked through the valley following the river, and then into a big cave. The valley path is actually similar to one of the scenic spots we went to in Chongqing.
---
Shilin (Stone Forest) 石林
Then we headed to Shilin National Scenic Area. A big park consisting of tall rock forest-like formations. It's really cool, and the park is big too.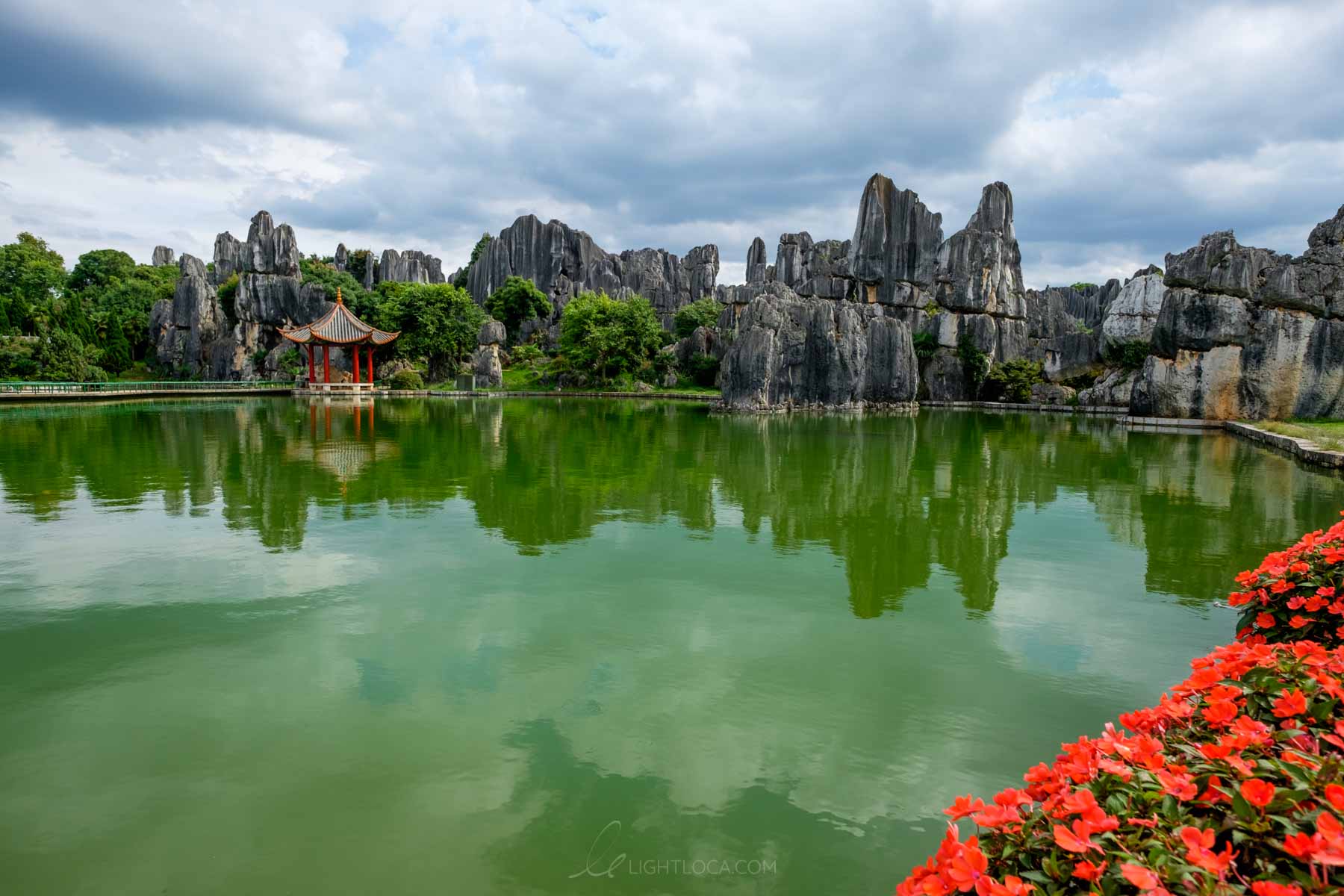 After that we booked a night train to go to Lijiang. The overnight train ride was a lot better than I thought, I totally slept well on it lol.
---
Old Town of Lijiang 丽江古城
Once we arrived at Lijiang, we went to look for a hotel and then walked around the Old town of Lijiang. We pretty much just hung around in the town, it was a low key day.
We played chinese poker for a while at our hotel, with me losing lots of money lol.
---
Dali Ancient City 大理古城
The next day we took a 2hr train to 大理, and then took a taxi to the Dali Ancient City. We spent the day just walking around the town. Dali town is similar to the Lijiang town, but I think it's bigger and maybe a bit less touristy.
---
Chongsheng Temple and the Tree Pagodas
We went on a tour to the Chongsheng Temple, a buddhist temple near the old town of Dali. The three Pagodas are located in this temple complex as well. It's a nice place to visit.
---
Xizhou town
After that we went on a tour in Xizhou town to see the residential areas unique to the Bai people.
---
Butterfly Spring Park
From there we walked around in the Butterfly Spring Park, a nice park nearby where you go through a bamboo path to a small lake.
---
Erhai Lake Cruise
Then we went on a cruise at the Erhai Lake. The scenery is amazing on the lake! We booked a ktv room while on the cruise lol.
---
Mt. Cangshan Geopark
The Mt. Cangshan Geopark was my favorite scenic spot in Yunnan, it's really amazing. We took a cable car up 3000ish meter up to the hiking path and hiked for a few hours doing the loop. It was very misty that day so didn't get to see mountainous views, but still it looked nice with the mist.
At certain parts it was actually quite hard to breathe, I think because we're very high up.
---
Tian Long Ba Bu film location 七龙八部
Our next stop was to the Tian Long Ba Bu film location. I actually don't remember if I saw that show before. It sounds so familiar, I've probably seen it before lol. It was a nice place to walk around.
Tea in Yunnan
On our last day, we are back in the Old Town of Lijiang and went into a tea shop. We spent like hours at this tea shop lol. The owner gave us samples of teas to try. We drank through like 15 cups of Pu'er tea lol. I bought a jar of Hei Gou Qi 黑枸杞 tea (black goji berry tea), it's supposedly good for you. For the rest of the day we shopped around the town.
Food in Lijiang
The food in Lijiang were all good. There's a breakfast place we went to multiple times that I thought had really good food. I loved the egg fried bao zi, it's sooo good.
The trip to Yunnan was awesome, really thankful to the ladies that planned the whole trip!
Places visited: Dali Ancient City, Old Town of Lijiang, Shilin Stone Forest, Yiliang Jiuxiang Scenic Area, Chongsheng Temple and the Tree Pagodas, Xizhou town, Butterfly Spring Park, Erhai Lake, Mt. Cangshan Geopark, and Tian Long Ba Bu film location
See my photos of Dali, Lijiang, Mt. Cangshan Geopark, Shilin & Jiuxiang Scenic Area, and Chongsheng Temple.