We visited Bangkok, Thailand for about 5 days. Unfortunately for a few days I got a bit sick, I believe due to the vast temperature change between the indoors and outdoor. But we were still able to visit several places while in Bangkok!

WAT THAM SUEA & WAT THAM KHAO NOI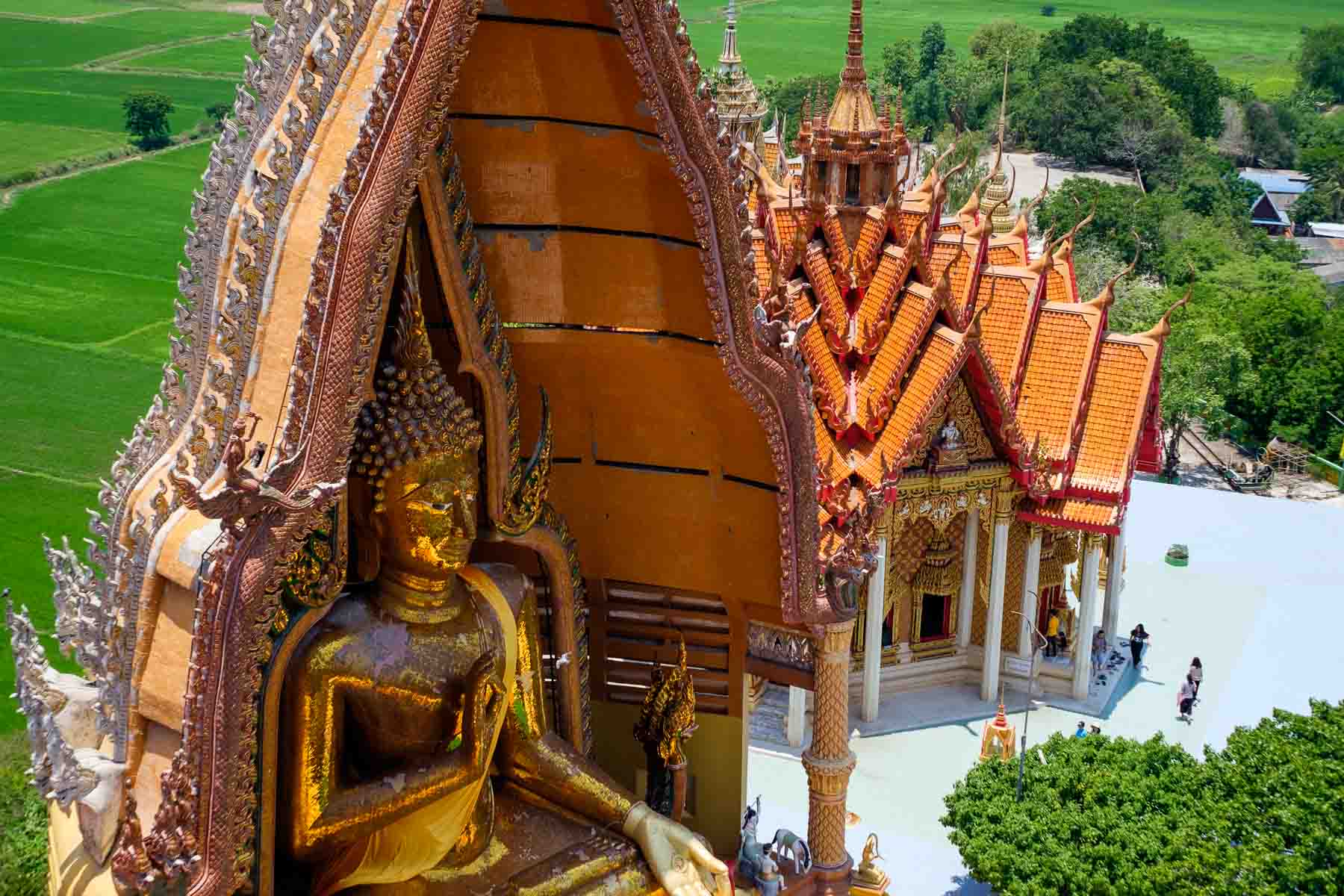 We spent a day out of the city to Wat Tham Suea & Wat Tham Khao Noi in Kanchanaburi, and the Erawan National Park. We know a local friend here so she was able to take us to these sights, which is super nice 🙂

About a few blocks away from Wat Tham Suea, there's a nice cafe to dine-in, MEENA Cafe. They have a pathway into the field that lets you view the temples from afar. It's a nice scenic place to have lunch and enjoy the view!
Erawan National Park consists of multiple spots of waterfall views. When we arrived there, the place was near closing time, so we didn't get to go to all the waterfalls.
---
GRAND PALACE
So I actually didn't get a change to go inside the Grand Palace because by the time we got there it was already closed lol. We actually didn't really plan to come here, we happened to see the intricate roof designs from the ferry (we just wanted to do a loop on the ferry lol), and got off here. Yeah the ferry is also a cool experience, they use whistles to communicate!

After we walked around the Grand Palace area, we just continued exploring the neighborhood, and came upon a place where there was a outdoor local theater show going on! There was also food stands set up, which we went and grabbed a few 🙂
---
BANGKOK ART AND CULTURAL CENTER
If you're looking to do something indoors and art related then this is a great place to visit. There's also craft shops and cafes in there.
There's also modern shopping malls around the area that you can explore. After we visited the Art and Cultural Center, we went to the MBK mall nearby and had dinner there.
---
CHINATOWN
We visited Chinatown one of the nights and it was quite lively. There's lots of restaurants, shops and street food here.

---
WAT TRAIMIT
A nice temple near the Chinatown area in Bangkok. Since we live close by here, I went and visited this temple.

THAI MASSAGE
I've said this in my other Thailand posts, but will mention here too. Do get a Thai Massage while you're in Thailand! We went to one here as well and it was fantastic! We just went to the one our hostel recommended and it was a good one 😀

---
TUKTUK
Probably only tourists uses tuktuks in Bangkok lol. We went on it and I thought it was safer and not as hot as inside a taxi car.

---
ACCOMMODATION
We chose to stay at Fun Cafe and Hostel for our stay in Bangkok. It's close by Chinatown, and to the train and ferry. They have a cafe on the first floor which is convenient. The Pad Thai was very good 🙂 The front desk girls are also really nice. We really enjoyed our stay here.
---
COST OF TRIP FOR 5 DAYS IN BANGKOK, THAILAND
Here's a breakdown of the cost of our 5 Day stay in Bangkok per person in USD (excluding flights). It is based on a 2-person share.

Food: $45
Accommodation: $54
Transportation: $10
Entrance fees and activities: $15
Total Cost: $124 USD

Accommodation: Fun Cafe & Hostel
See the photos I took in Bangkok, Thailand.