We spent 11 days in Chiang Mai, Thailand. We decided to do a meditation retreat here, so that took up a bulk of the time. Chiang Mai is a nice relaxing town I would say, though with lots of things you can do here. Here's the top activities we did and places we went while in Chiang Mai.

---
DOI INTHANON NATIONAL PARK – KEW MAE PAN TRAIL
Doi Inthanon is the highest mountain in Thailand. We didn't know about that when we thought of visiting Chiang Mai lol. I researched online and heard of this amazing hike – the 2hr Kew Mae Pan Nature Trail, and it really is an amazing hike. I loved it.

We booked a group tour for this 2-hour hike through our hostel. The guide with a minivan picked us up from our hotel at 7am and drove us to the Doi Inthanon National Park. We first visited the Queen and King Padoga and the garden area in the park, then we went on the Kew Mae Pan trail which brought us up and down through the forest and open meadow fields where you can see the clouds!
There's one station with an overlook where you can see a sea of clouds on the same level as you, and another spot where you can see both the king and queen padogas from afar. I wish I can stay there longer, it would be awesome if you can stay overnight there lol. After the trail we visited a Hmong market and then to one of the waterfall. They also provided lunch which was quite good.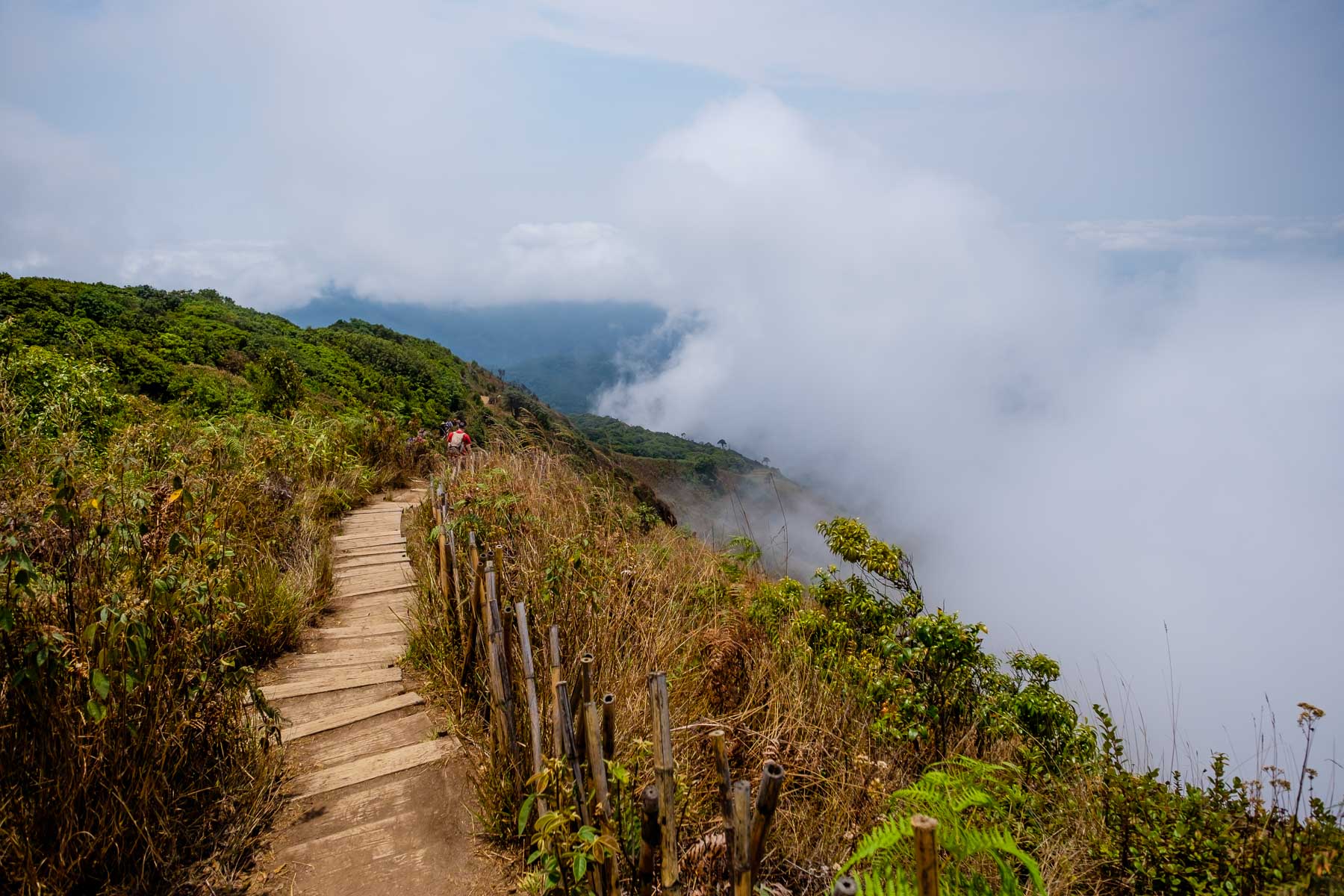 Overall it was a fantastic tour, I'd definitely urge anyone visiting Chiang Mai to do this 2-hour Kew Mae Pan trail at the Doi Inthanon National Park!

---
MEDITATION RETREAT AT DOI SUTHEP
I had always wanted to do a meditation retreat, the whole thing about what meditation can do to you physically and the benefits and out of the world experiences that people have had really piqued my interest awhile back.

So we went on the 5 day meditation retreat at the Doi Suthep Vipassana Meditation Center. Really it's just 3 full days because the first and last day are only half days. I will talk more about the meditation retreat experience in detail in another article, but overall it was a great experience. I wish I can keep doing meditation every morning, but it's really hard to get into the habit of doing it everyday haha.
This meditation center happens to be at Wat Phra That Doi Suthep, so you can also visit the temple itself after your meditation retreat.
---
ELEPHANTS
If you want to see elephants, Thailand is a place where you can definitely see them. I searched online to see which tour I can go on to see elephants and decided to go with Elephants At Home. I booked the day trip through my hostel – Green Sleep Hostel. The tour guide picked me up from my hostel at 7am and picked up 3 more people, then drove about 2.5hr to the location in the countryside.
There were 3 elephants there, 2 female and 1 male. We fed them bananas and then washed them in a small river, then walked with them through a forest pathway to a small waterfall and had a nice lunch there. All the leftover food were given to the elephants lol. Walking with the elephants through the forest was my favorite part of the trip 🙂 The drive from the town to this location was actually very scenic too. Overall, I enjoyed this trip.
---
THAI NEW YEAR WATER FESTIVAL
We timed our visit to Chiang Mai with the Thai New Year Festival, which we heard was pretty epic with water flying everywhere. Anyone going outside during this time is definitely going to get drenched, as we did. There was a big long parade and different events going on around the town. We stumbled upon one of the temple where there was a concert going on with food stands, and some kind of dancing/music competition happening as well, so we just stayed and watched the event 🙂

---
SUNDAY NIGHT MARKET
The Sunday night market is huge! Lots of local crafts being sold and food. I bought a few scarfs which I thought was a good deal. If you're visiting Chiang Mai, do try to hit the Sunday Night Market, it's very lively 🙂

---
MUAY THAI BOXING CLASS
I tried a Muay Thai boxing class while in Chiang Mai, and it was very good exercise! I don't think the class was expensive either, so if you want to get some exercise in, try a Muay Thai class 😀
---
COST OF TRIP FOR 11 DAYS IN CHIANG MAI
Here's a breakdown of the cost of our 11 days stay in Chiang Mai, Thailand per person in USD (excluding flights). It is based on a 2-person share.

Food: $43
Accommodation: $113
Transportation: $8
Tours and Activities: $127
Gifts & Miscellaneous: $110

Total Cost: $401USD
Accommodation: Green Sleep Hostel
Resources: Doi Suthep Vipassana Meditation Center
See the photos I took in Chiang Mai, Thailand.